application-context.xml

<?xml version="1.0" encoding="UTF-8"?>
<beans xmlns="http://www.springframework.org/schema/beans"
  xmlns:p="http://www.springframework.org/schema/p"
  xmlns:context="http://www.springframework.org/schema/context"
  xmlns:tx="http://www.springframework.org/schema/tx"
  xmlns:xsi="http://www.w3.org/2001/XMLSchema-instance"
  xmlns:aop="http://www.springframework.org/schema/aop"
  xmlns:jdbc="http://www.springframework.org/schema/jdbc"
  xsi:schemaLocation="
   http://www.springframework.org/schema/beans
   http://www.springframework.org/schema/beans/spring-beans.xsd
   http://www.springframework.org/schema/aop
   http://www.springframework.org/schema/aop/spring-aop.xsd
   http://www.springframework.org/schema/tx
   http://www.springframework.org/schema/tx/spring-tx-3.0.xsd
   http://www.springframework.org/schema/jdbc
   http://www.springframework.org/schema/jdbc/spring-jdbc-3.0.xsd
   http://www.springframework.org/schema/context
   http://www.springframework.org/schema/context/spring-context-3.0.xsd">  
   
<context:component-scan base-package="mugil.org.*" />      
<tx:annotation-driven transaction-manager="transactionManager"/>
  
<bean id="transactionManager"
  class="org.springframework.orm.jpa.JpaTransactionManager">
     <property name="entityManagerFactory" ref="entityManagerFactory" />
</bean>

<bean id="entityManagerFactory"
class="org.springframework.orm.jpa.LocalContainerEntityManagerFactoryBean"
p:dataSource-ref="dataSource" p:persistenceUnitName="simple-jpa">
 </bean>
  
 <bean id="dataSource" class="org.springframework.jdbc.datasource.DriverManagerDataSource">
        <property name="driverClassName" value="com.mysql.jdbc.Driver"/>
        <property name="url" value="jdbc:mysql://localhost:3306/MUSIC_STORE"/>
        <property name="username" value="music_store"/>
        <property name="password" value="music_store"/>  
 </bean>     
</beans>

Dissection of application-context.xml

 <context:component-scan base-package="mugil.org.*" />

This component-scan tag also enables the usage of JPA annotations.
Enables the usage of JPA annotations(@Service, @Component, @Repository, @Controller and etc.,)
annotation-config —> enables the usage of JPA annotations , only in the beans specified in the context.xml whereas (ii) component-scan —> scans through all the packages specified, records all the project beans having JPA annotations, into this context.xml. Therefore it enables JPA annotaion usage in (beans specified in context.xml)+(Project Beans).Inshort, component-scan extends annotation-config.
Note:
When we use component-scan in the app-context.xml, it's not necessary to use annotation-config again.Even if both the tags are specified, it's not a problem because, the spring container would take care of running the process only once.

 <tx:annotation-driven transaction-manager="transactionManager"/>

It checks for @Transactional annotation in any of the classes. This tag is like a Transactional Switch that turns on the transactional behaviour.Here Transaction Manager is being injected

<bean id="transactionManager" class="org.springframework.orm.jpa.JpaTransactionManager">
   <property name="entityManagerFactory" ref="entityManagerFactory" />
</bean>

 <bean id="dataSource" class="org.springframework.jdbc.datasource.DriverManagerDataSource">
        <property name="driverClassName" value="com.mysql.jdbc.Driver"/>
        <property name="url" value="jdbc:mysql://localhost:3306/MUSIC_STORE"/>
        <property name="username" value="music_store"/>
        <property name="password" value="music_store"/>  
 </bean>     

Here Transaction Manager is setup.EntityManagerFactory is being injected.
Here EntityManagerFactory is setup .Data Source reference and Persistence UnitName Reference is specified.
DB connection details are specified.
Based on the PersistenceUnit name, the corresponding portion of persistence.xml is accessed (a Project can have multiple persistenceUnitNames)
persistence-context.xml

<?xml version="1.0" encoding="UTF-8"?>
<persistence version="2.0" xmlns="http://java.sun.com/xml/ns/persistence" xmlns:xsi="http://www.w3.org/2001/XMLSchema-instance" 
             xsi:schemaLocation="http://java.sun.com/xml/ns/persistence http://java.sun.com/xml/ns/persistence/persistence_2_0.xsd">
  <persistence-unit name="simple-jpa" transaction-type="RESOURCE_LOCAL">
    <provider>org.hibernate.ejb.HibernatePersistence</provider>
    <class>mugil.pojo.MusicDetails</class>
    <exclude-unlisted-classes>true</exclude-unlisted-classes>
    <properties>
      <property name="hibernate.dialect" value="org.hibernate.dialect.MySQLDialect"/> 
      <property name="hibernate.show_sql" value="true"/>
      <property name="hibernate.max_fetch_depth" value="3"/> 
    </properties>
  </persistence-unit>
</persistence>

Dissection of persistence-context.xml
persistence-unit – Defines the Name of the Persistence Unit
provider – ORM tool by which the underlying persistence would be accessed
class – Entity Class Names
properties – Defining the underlying persistence technology and other properties would be configured here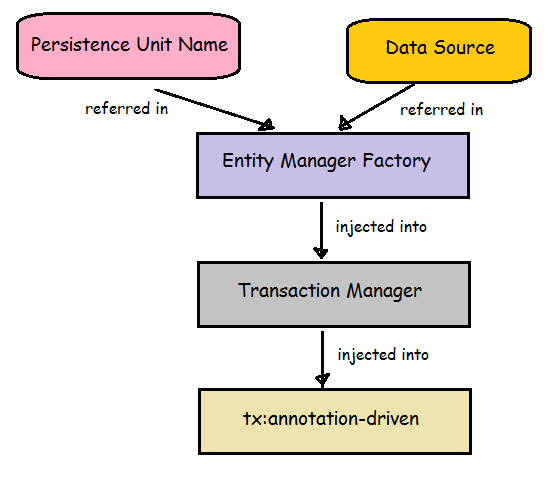 Other Java Codes
DaoInterface.java

public interface IMusicStoreDao 
{
   public List getMusicList();
}

DaoImplementation.java

@Service(value = "MusicCollections")
@Repository(value = "MusicCollections")
@Transactional
public class MusicStoreDaoImpl implements IMusicStoreDao{
 
  @PersistenceContext(unitName = "simple-jpa")
    private EntityManager entityManager;
 
   @Override
     public List getMusicList(){
     List musicDetailsList= entityManager.createQuery("select c from MusicDetails c").getResultList();
     return musicDetailsList;
    }
}

Executer.java

public class Executer {
   public static void main(String[] args){
        ApplicationContext applicationContext=new ClassPathXmlApplicationContext("META-INF/app-context.xml");
        IMusicStoreDao musicStoreDao=(IMusicStoreDao) applicationContext.getBean("MusicCollections");
        System.out.println("MusicList: \n"+musicStoreDao.getMusicList());
    }
}

Reference:
Spring and JPA